Updates
Minnesota's community solar program hit a record 401 megawatts of operational capacity in August 2018. The chart above shows the progress of projects through the program since August 2015, and the nearly two-year lag between the program launch in December 2014 and the successful ignition of multiple megawatts of capacity in January 2017. Below is a simplified version of the chart above, showing just projects in the design/construction phase or in operation.
Also, Xcel Energy is now publishing data on the mix of subscribers, so we can report that more than 7,000 residential customers (92% of all subscribers) are saving money with a shared solar subscription. Although the vast majority of the program's capacity serves commercial customers (87% of the 364 megawatts), nearly one-third of the total program capacity in March 2018 (about 100 megawatts) actually serves public entities like schools. In other words, community solar helps broaden those who benefit from solar by enabling individuals and public institutions to save money with solar! We'll continue providing these subscriber spreads month-by-month if Xcel keeps reporting them.
Original post
I've been asked a lot of questions about Minnesota's community solar program over the past couple years and it's time to make one thing clear: Minnesota's program is the best in the country.
Why? Because there 10 times more community solar projects in the queue — 400 megawatts — in Minnesota than have been built in the history of community solar in the United States (40 megawatts).
Minnesota's program (see infographic) is a comprehensive approach that makes developing community solar projects economically viable and—most importantly—that does not cap the development of community solar projects. The latter is the key.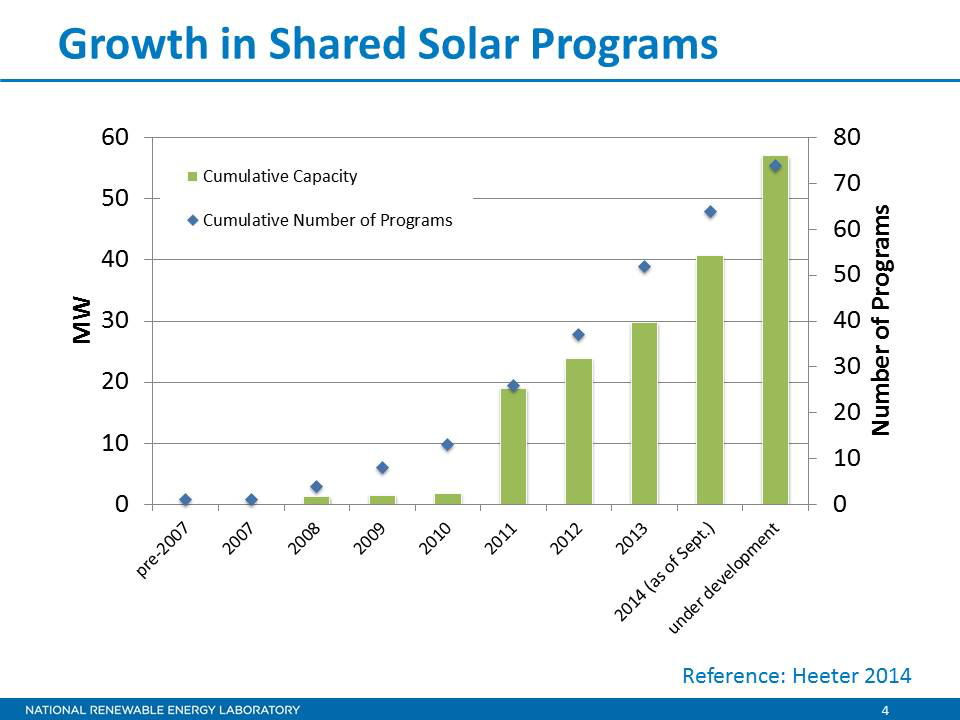 Colorado's landmark community solar legislation, for example, caps the program at 6.5 megawatts per utility per year (although there's hope it may increase in the future). Massachusetts has just revamped their solar renewable energy credit program to make community solar a better investment. No other state has had significant community solar development, despite 11 states that have some form of virtual net metering that allows for sharing electricity output from an off-site solar energy project.
How big is Minnesota's projected success?
Xcel Energy's queue for community solar already has 20 times more solar in it than the state had installed at the end of 2014. If it all gets built, it would be enough to rank second in the country in annual solar installations in 2014.
I recently wrote that a state's solar market can't really launch without third party ownership — leasing or power purchase agreements that allow home and business owners to install solar with zero upfront cost, hand off maintenance concerns, and save money from day one. Indiana was the only potential exception, due to a (now defunct) feed-in tariff program operated by Indianapolis Power and Light. Minnesota may be the second.
I'm no stranger to community solar programs. I worked closely with advocates in Minnesota on the legislation, as part of a suite of pro-solar policies that passed in 2013. I've written extensively on community solar policies, from a 2010 report on the obstacles and opportunities to podcasts with leaders in the community solar movement. I've testified on community solar proposals in California and Maryland, and lent my advice in other states.
If the projects develop as expected in Minnesota, there will be no contest. To say it like a local, "Minnesota's community solar program is not too bad."
This article originally posted at ilsr.org. For timely updates, follow John Farrell on Twitter or get the Energy Democracy weekly update. 
"Million Solar Roofs of Energy Storage" Bill Approved By California Legislature September 10th, 2018 by Steve Hanley
The California legislature has put its stamp of approval on SB 700, a bill that will provide up to $830 million in new incentives to add behind the meter storage to residential and small business solar systems. "What we're trying to do is create a mainstream market for energy storage, like we've done for solar PV," Bernadette Del Chiaro, executive director of the California Solar & Storage Association, tells Green Tech Media.
Backers of SB 700 call it the "Million Solar Roofs of Energy Storage" bill. They anticipate the legislation will help boost the state's behind the meter battery storage total to 3,ooo MW by 2026, compared to only 176 MW today.
The official name of the program is the Self Generated Installation Program and it has been around in one form or another since 2006. Companies like  Tesla, Stem, Green Charge Networks, and Sunverge have taken advantage of its incentives for systems under 30 kilowatts in size.
The California PUC has amended the program to direct that 75% of the funds be used for energy storage. The application process now favors proposals that feature additional greenhouse gas or grid balancing benefits. The incentives also decrease over the period of the program, a decided advantage for those who want to add battery storage now rather than later.
While behind the meter storage is important, it comes at greater cost than grid-scale storage while giving individual customers greater control over their personal energy usage. However, some industry analysts expect the growing use of time of use rate structures could provide many of the benefits of behind the meter storage without the upfront expense.
"Funding is always a boon for an emerging technology like storage, so an additional infusion of cash will only boost the market," says Brett Simon, senior energy storage analyst for Wood Mackenzie Power & Renewables.. "However, we've seen in recent years that SGIP, while still important, has been less of a factor in California deployments compared to the program's early years."
In fact last year, of the 6.5 megawatts of residential storage deployed in California, only 1.6 megawatts were SGIP projects. On the non-residential side, only 17 MW of the 45 megawatts of behind-the-meter storage installed last year received SGIP credits. "We've heard from developers and installers that, as storage economics have improved and customer demand has risen, some customers forgo the SGIP," Simon adds. Many residential customers "just want to get systems installed ASAP, don't want to worry about additional paperwork and red tape, and are generally emotional buyers anyhow who aren't concerned with price."
"That's not to say SGIP isn't important," he cautioned. "But it's more like just one pillar that's holding up the California behind-the-meter storage market, rather than the entire foundation." That being said, California's approach is far more progressive than what is happening next door in Arizona, where that state's largest utility is pouring millions of dollars of rate payer cash into a vicious campaign to knock out a grassroots campaign funded by internet billionaire Tom Steyer to force the state to adopt a meaningful renewable energy standard.
"It's our electricity," Arizona Public Service, the state's largest utility company, seems to be saying, "and we will decide how much you use when and at what cost." The California approach may have some flaws and plenty of critics, especially among Republicans, but it is preferable to the head in the sand, take us back to the glory days of the 1930s approach put forward by APS and its supporters.