Based on the 3C Paris Track…

The collapse of ecosystems like coral reefs, the Amazon and the Arctic
Unlivable temperatures for more than 100 days a year in West Africa, tropical South America, the Middle East and South-East Asia
A one-fifth decline in agricultural yields
The flooding of coastal cities, small islands and low-lying regions including Chennai, Mumbai, Jakarta, Guangzhou, Tianjin, Hong Kong, Ho Chi Minh City, Shanghai, Lagos, Bangkok, Manila and ten percent of Bangladesh
Likely armed conflict over resources, with the possibility of nuclear war
Spratt and Dunlop offer what they call a "scenario planning" approach to climate risk assessment, because they argue that current risk-assessment strategies aren't adequate in the face of the existential threat posed to human civilization by the worst-case climate change predictions.
New Scientist 6 June 2019 , updated 7 June 2019. Climate change not subject to adaptation.
By Adam Vaughan
Climate change could bring about the end of civilisation as we know it within three decades, an Australian think tank has warned. The report by Breakthrough, endorsed by a retired Australian admiral, says a war-time response is needed to avoid the doomsday scenario. "The report speaks, in our opinion, a harsh but necessary truth," says co-author David Spratt.
What does the report say we are in for?
The authors sketch a scenario where by 2050 more than half of the world's population faces 20 days a year of lethal heat, crop yields globally drop by a fifth, the Amazon ecosystem collapses, the Arctic is ice-free in summer, and sea levels have risen by 0.5 metres (they rose by 0.19 metres over the 20th century). In the worst case, "the scale of destruction is beyond our capacity to model, with a high likelihood of human civilisation coming to an end."
The report says more than a billion people could be displaced by climate change by 2050, is that true?
The figure is a lot higher than most estimates. The World Bank says 140 million by 2050, for example. Breakthrough cites as evidence a 2018 report by a Swedish non-profit, which in turn sourced it from a 2010 report by a German non-profit. That said a billion people live in areas that could be inundated by sea level rises this century – quite different to saying there will be a billion climate migrants by 2050. Pratt also referred to a UN website which says: "Unless we change the way we manage our land, in the next 30 years we may leave a billion or more vulnerable poor people with little choice but to fight or flee."
Hasn't the world committed to stop nightmare impacts by limiting temperature rises to 2°C?
Yes, it did in the 2015 Paris climate accord, though the plans that countries have put forward for cutting emissions would still still see us hit around 3°C of warming. But Breakthrough says warming will be much higher because the number does not include long-term carbon cycle feedback loops (such as warmer soil releasing more carbon). The think tank explored these views more fully in a report last year.
Why does this all sound a lot worse than the reports by the UN climate science panel?
Reports by the Intergovernmental Panel on Climate Change (IPCC) have an inherent degree of conservatism built into them, partly due to the years-long review process involved in putting them together, but also because the summaries of the reports have to be signed off by governments. Breakthrough says the IPCC is not paying enough attention to processes that can lead "to system feedbacks, compound extreme events, and abrupt and/or irreversible changes."
What do other researchers think about the claims?
Mark Maslin of University College London says the report adds to the deep concerns expressed by security experts such as the Pentagon over climate change. "Maybe, just may, it is time for our politicians to be worried and start to act to avoid the scenarios painted so vividly," he says.
Can we stop these doomsday predictions coming to pass?
Yes but we must reverse emissions, which are still climbing. Spratt says there are "plenty of signs" from citizens around the world that they would like to see a war-like response to climate change, pointing to the Extinction Rebellion campaigners and school pupils striking. Maslin says the report is a "stark warning that we must act now." Spratt acknowledges that countries may also ratchet up their ambition at a key UN climate summit next year.
Spratt and Dunlop based their scenario on findings that current Paris commitments would lock in three degrees Celsius of warming by 2100. However, since those findings do not account for feedback loops set in motion by future warming, Spratt and Dunlop predict three degrees of warming by mid-century.

"It should be noted that this is far from an extreme scenario: the low-probability, high-impact warming (five percent probability) can exceed 3.5–4°C by 2050 in the Xu and Ramanathan scheme," they write.
The impacts of three degrees of warming by 2050 would include:
The collapse of ecosystems like coral reefs, the Amazon and the Arctic
Unlivable temperatures for more than 100 days a year in West Africa, tropical South America, the Middle East and South-East Asia
A one-fifth decline in agricultural yields
The flooding of coastal cities, small islands and low-lying regions including Chennai, Mumbai, Jakarta, Guangzhou, Tianjin, Hong Kong, Ho Chi Minh City, Shanghai, Lagos, Bangkok, Manila and ten percent of Bangladesh
Likely armed conflict over resources, with the possibility of nuclear war
Spratt and Dunlop offer what they call a "scenario planning" approach to climate risk assessment, because they argue that current risk-assessment strategies aren't adequate in the face of the existential threat posed to human civilization by the worst-case climate change predictions.
"What is needed now is an approach to risk management which is fundamentally different from conventional practice. It would focus on the high-end, unprecedented possibilities, instead of assessing middle-of-the-road probabilities on the basis of historic experience," they write.
The point is ultimately to avoid the scenario outlined in the report.
"A doomsday future is not inevitable!" Barrie wrote in the foreword. "But without immediate drastic action our prospects are poor. We must act collectively. We need strong, determined leadership in government, in business and in our communities to ensure a sustainable future for humankind."
We Need an #Ecological Civilization Before It's Too Late http://ow.ly/X36a30meZHi @Greenpeace @ScienceNewsOrg @Sierra_Magazine391:00 PM – Oct 15, 2018Twitter Ads info and privacyWe Need an Ecological Civilization Before It's Too LateIn the face of climate breakdown and ecological overshoot, alluring promises of "green growth" are no more than magical thinking. We need to restructure the fundamentals of our global cultural/econ…ecowatch.com
Fortune Magazine has the US candidates positions…
Here's a look at the plans 2020 candidates have proposed so far.
Jay Inslee
The 'climate candidate,' Gov. Jay Inslee released his third climate plan on Wednesday. He promised a series of proposals that will form his Climate Mission Agenda.
The proposal is robust: his first piece, called "100% Clean Energy for America Plan," is a $3 trillion investment over 10 years. It includes three targets for 2030—100% clean electricity, 100% zero-emission new vehicles, and 100% zero-carbon new buildings. This piece also includes a goal of net-zero carbon emissions by 2045.
The second part of his plan, "An Evergreen Economy for America," includes among other components a "G.I. Bill" that would help individuals and communities most affected by the transition away from fossil fuels. This would include retirement benefits, health insurance, and training to enter new jobs.
Part two also includes a program that would help retrofit existing public and private structures to meet new energy standards, shift U.S. markets from relying on fossil fuels to renewable sources, invest in sustainable infrastructure and clean energy research, and incentivize clean manufacturing, among others. The plan also prioritizes investments in low-income communities and those most impacted by or vulnerable to pollution and climate change, and has the aim of creating 8 million new jobs.
Jay Inslee✔@JayInslee · Jun 5, 2019
Today is #WorldEnvironmentDay, a day created by the @UN to encourage countries and communities around the globe to collaborate and solve major environmental challenges. (1/2)
That's why I chose today to release my Global Climate Mobilization plan. It's an action plan for re-establishing American Leadership on the climate crisis. I hope you'll take a look. (2/2) http://bit.ly/2QPaXok 3018:16 AM – Jun 5, 2019Twitter Ads info and privacyGlobal Climate Mobilizationjayinslee.com126 people are talking about this
The latest component, "Global Climate Mobilization," focuses on reversing many of Trump's policies and recommitting to a global effort to confront climate change. This includes rejoining the Paris Agreement as well as other international and regional climate plans. It also calls for preparing the U.S. to take more of a leadership role, particularly around global instability resulting from a changing climate, including climate refugees.
Other aspects of the plan include setting stronger climate and labor standards in international trade, increasing investment to build a sustainable global economy, and ending fossil fuel subsidies and increasing global accountability on drivers of climate change.
Elizabeth Warren
Sen. Elizabeth Warren announced her own climate plan on Tuesday, which includes spending $2 trillion over 10 years to help achieve the targets of the Green New Deal. The investments would target green research, manufacturing, and exports.
Elizabeth Warren✔@ewarren · Jun 4, 2019Replying to @ewarren
This is not a question of more or less government: It's about who the government works for. And in the weeks ahead, I'll be releasing more plans on how this vision of economic patriotism should shape our economy, from trade policy to Wall Street. Here's my first proposal:
With bold investments, we can fight climate change, achieve the ambitious targets of the Green New Deal, and create more than a million good jobs here at home. I have a plan to invest at least $2 trillion in green research, manufacturing, and exporting: https://medium.com/@teamwarren/my-green-manufacturing-plan-for-america-fc0ad53ab614 …2,8297:32 AM – Jun 4, 2019Twitter Ads info and privacyMy Green Manufacturing Plan for AmericaBy Elizabeth Warrenmedium.com790 people are talking about this
It includes three pledges: the Green Apollo Program, Green Industrial Mobilization, and the Green Marshall Plan. The first centers around $400 billion in funding for clean energy research and development over the next 10 years. Green Industrial Mobilization is a $1.5 trillion government commitment to buy American-made clean, renewable, and emission-free energy products. Finally, the Green Marshall Plan calls for selling these American products abroad and an additional $100 billion in aid for poorer countries to help them buy and use this technology.
Warren pitched her plan as a means to lead the global effort to fight climate change while promoting job creation at home.
Joe Biden
Former Vice President Joe Biden also released his Plan for a Clean Energy Revolution and Environmental Justice on Tuesday. It proposes $1.7 trillion in spending to reach net-zero carbon emissions by 2050.
To do so, the plan includes working with Congress to establish an enforcement mechanism by 2025 to penalize polluters, recommitting to the Paris Agreement, incentivizing deployment of clean energy innovations, and a $400 billion investment in clean energy research innovation.
We are in a climate emergency and we must take drastic action now to address it. So today, I'm announcing my plan for a Clean Energy Revolution and Environmental Justice.http://JoeBiden.com/Climate 8,7194:00 AM – Jun 4, 20193,841 people are talking about thisTwitter Ads info and privacy
It emphasizes investing in infrastructure improvements to ensure that the country's infrastructure can withstand the impacts of climate change and imposing tougher fuel-economy standards for vehicles. The plan also calls for an end to fossil fuel subsidies and a ban on oil and gas permits on public lands while helping groups disproportionately harmed by pollution.
In addition to the $1.7 trillion, such programs will be funded by rolling back Trump's corporate tax breaks and leveraging state, private, and local funds to total investments to more than $5 trillion over the next 10 years.
Beto O'Rourke
Beto O'Rourke released his plan in late April, which calls for spending $5 trillion over 10 years to halve carbon emissions by 2030 and reach net-zero emissions by 2050.
The proposal includes a series of executive actions to cut pollution, reduce methane leakages, regulate building efficiency standards and hazardous waste limits, block new fossil fuel leases, and re-enter the Paris Agreement, among others. This first part of his plan also calls for leveraging $500 billion in annual government procurement to decarbonize all sectors.
Climate change is the greatest threat we face. And we won't solve it with half measures or half the country. It will take all of us. That's why I just announced an historic, ambitious plan to meet this challenge and invest in our communities. Read it here: https://betoorourke.com/climate-change/ 5,8997:04 AM – Apr 29, 2019Twitter Ads info and privacyClimate ChangeBeto's four-part framework to mobilize a historic $5 trillion over ten years, require net-zero emissions by 2050, and address the greatest threat we face.betoorourke.com1,961 people are talking about this
The $5 trillion investment, meanwhile, will go toward infrastructure investment, climate change tax incentives, research and development in renewable and sustainable innovations, and supporting communities throughout this transition.
The last part of O'Rourke's proposal explicitly calls for providing support to the communities that will be most impacted by the effects of climate change and invest in climate readiness.
Michael Bennet
Sen. Michael Bennet's climate plan calls for net-zero emissions by 2050. Unlike many of the other plans released so far, Bennet is focusing in particular on agriculture and land, emphasizing a cut to farming and ranching emissions in addition emissions from power plants, transportation, and heavy industry, and conserving U.S. lands.
At the same time, Bennet calls for working with the agriculture industry in these efforts, such as increasing incentives and providing economic certainty for farmers, while encouraging them to voluntary transition toward practices that help reduce emissions and food waste.
Climate change is a global crisis that we must confront now. That's why, on Day 1 as President, I will prioritize climate change and launch an initiative that engages people across the country to develop an innovative and lasting solution. Learn more → http://www.michaelbennet.com/climateplan 9710:01 AM – May 20, 2019Twitter Ads info and privacyAmerica's Climate Change PlanAmerica's Climate Change Plan will reduce emissions in line with the most aggressive targets set by the world's scientists and achieve 100 percent clean, net-zero emissions as soon as possiblemichaelbennet.com69 people are talking about this
Another component of Bennet's proposal is a "climate bank" intended to drive private investment in innovation and infrastructure and create millions of green technology jobs.
The plan also calls for promoting climate security in the U.S. and abroad, launching a 2030 climate challenge, and a series of "Climate X" options to increase consumer power and choice for clean energy, zero-emission vehicles, and energy efficiency in Americans' homes.
John Delaney
John Delaney's climate plan also calls for net-zero emissions by 2050. The $4 trillion plan focuses on six areas: a carbon fee and dividend; direct air capture/negative emissions technology; increasing the renewable energy budget; challenge grants; creating a Climate Corps; and a Carbon Throughway.
The carbon fee and dividend proposes imposing a $15 fee on every ton of carbon dioxide emitted, increasing by $10 every year, with the aim of reducing carbon emissions by 90% in 2050. To fund direct air capture, Delaney calls for ending fossil fuel subsidies and redirecting the funds to invest in these technologies, which are currently too costly to be implemented.View image on Twitter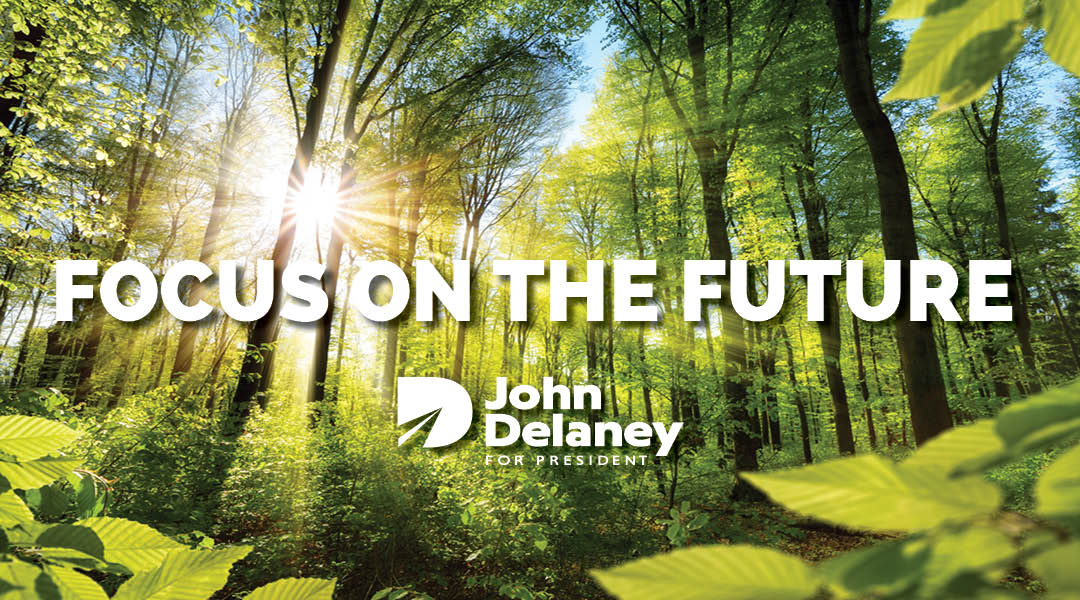 Climate change is the enviro challenge of our time—to secure our future we must act now. Carbon taxes, like the one I proposed in 2014, are the types of solutions our country needs more of. Stand with me to protect our environment on #WorldEnvironmentDay https://bit.ly/2M3kKUL 1410:55 AM – Jun 5, 2018See John Delaney's other TweetsTwitter Ads info and privacy
Delaney also proposes increasing funding for renewable energy five-fold at the Department of Energy and increasing renewable energy tax credits to promote private sector investment in renewables.
The plan includes the creation of "challenge grants," which are intended to spur innovation in a number of areas related to climate change. In addition, it would form a "Climate Corps" for high school graduates to work in low-income areas to help support these communities in their transition to a green economy, as well as a "Carbon Throughway," which is a $20 billion infrastructure project to safely transport captured carbon dioxide for sequestration or reuse.
Cory Booker
Sen. Cory Booker's proposal looks a little different from the rest. His "environmental justice plan," focuses on the disproportionate impacts of climate change and pollution on the poor and communities of color.View image on Twitter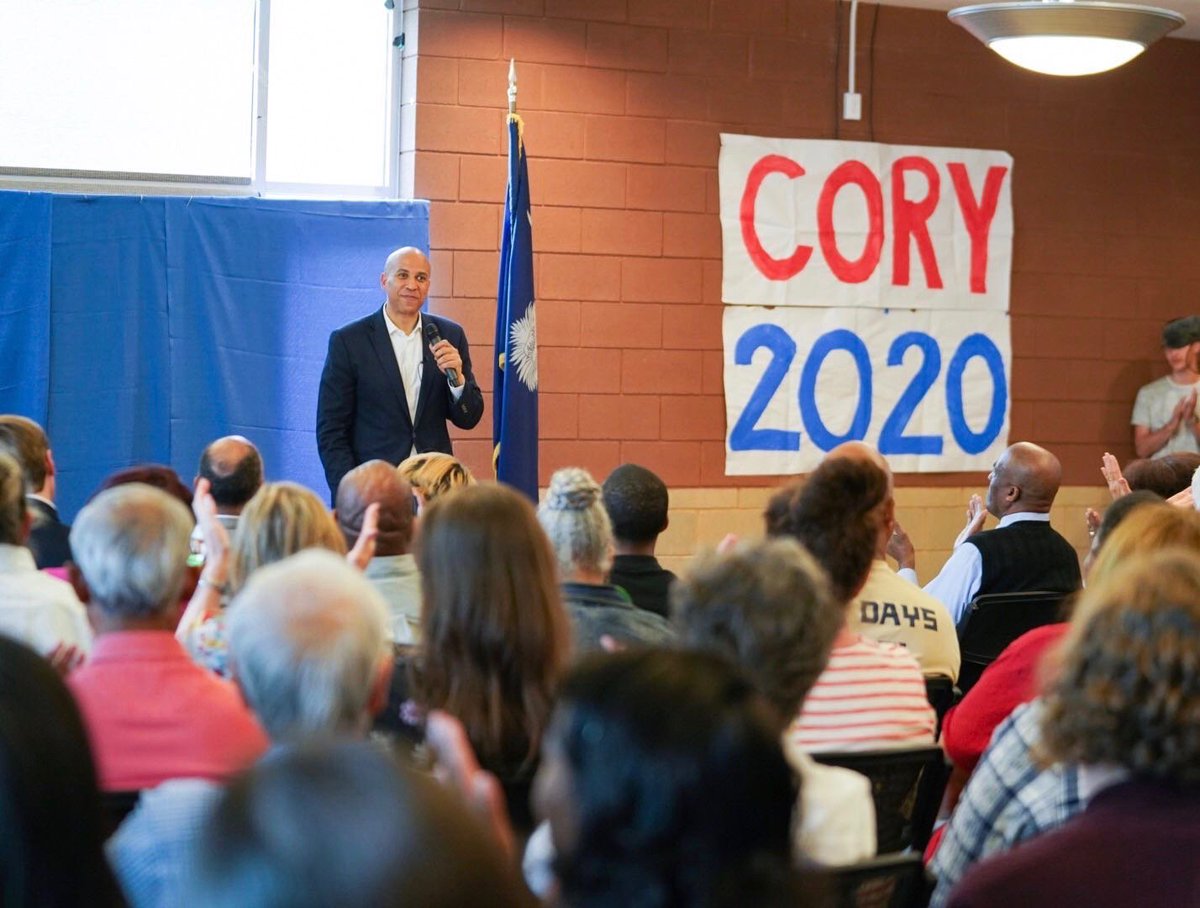 What greater civil right is there than access to clean air? Or clean water? Big thanks to South Carolina for hosting me last week as I rolled out the first planks of my environmental justice plan during the Justice For All tour. https://www.thestate.com/news/politics-government/article229713679.html …3967:40 AM – Apr 29, 2019140 people are talking about thisTwitter Ads info and privacy
It calls for an overhaul of policies that unfairly disadvantage these groups, while strengthening the regulatory practices of the Environmental Protection Agency and reversing rollbacks of environmental safeguards. The proposal also explicitly calls for safeguarding the right to safe drinking water and generally putting the "health of communities ahead of corporations."