App-Based Ride Services: Present and Future
App-based ride services such as Uber and Lyft have been widely welcomed by users for offering readily-available, reliable and comfortable service at an affordable price. Customer surveys have shown four in five users to be extremely or very satisfied, enviable satisfaction levels for any transportation service.
App-based services are prospectively good for cities as a whole as well as customers individually. In providing an alternative to the personal auto, they can complement public transportation, reduce parking demands and drinking-and-driving, and improve access to myriad urban attractions from restaurants to cultural and entertainment venues.
As their rapid growth added tens of thousands of vehicles to city streets, concerns about these "Transportation Network Companies" (TNCs) extended to impacts on traffic congestion and potentially undermining public transit and taxi services that are essential components of urban transportation networks. There has also been much discussion about how these types of services may integrate self-driving vehicles into their fleets and implications of this revolutionary technology on urban transportation ecosystems.
The reports listed below explore the cross-cutting issues that lie at the intersection of app-based ride services, traffic, transit and the future of urban transportation networks. The reports discuss how TNCs can contribute to the goals of public transit agencies, document TNC impacts on traffic and transit, analyze regulatory issues and address the path toward self-driving vehicles operating as shared taxi- and transit-like services.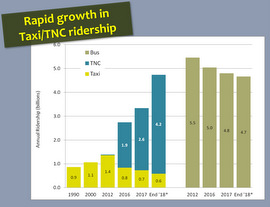 Current experience with ride services like Uber and Lyft can help us peer ahead to a future in which autonomous vehicles are mixed with human-driven vehicles in shared ride service fleets.
This presentation, made over several sessions at the 2018 Transportation Research Board Annual Meetings in Washington DC, highlights the rapid growth of ride services in the U.S., why customers are flocking to them, impacts on traffic and transit, and the road ahead.
A highlight, shown at right, is that ridership of Uber, Lyft and other TNCs is projected to exceed local bus ridership in the United States by the end of 2018, a remarkable development given that they did not even exist a half-decade ago. (January 2018)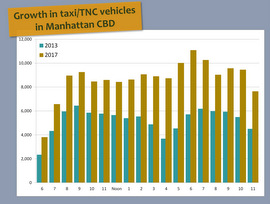 Empty Seats, Full Streets: Fixing Manhattan's Traffic Problem
Using newly available data on TNC trips, this report examines the impact of TNC growth on Manhattan traffic conditions. Findings indicate that TNC growth has generated a 59 percent increase in the number of taxi/TNC vehicles in the Manhattan Central Business District (CBD) on weekdays between 2013 and 2017. The number of taxi/TNC vehicles in the CBD in the late afternoon has doubled since 2013 to over 10,000 vehicles, as shown at right
The report examines the sources of this growth and recommends steps to reduce the impact of TNCs on Manhattan traffic congestion as part of an overall program that would include a per-trip fee paid by taxi and TNC passengers and cordon-based congestion pricing fees paid by all drivers in the CBD.
The report also discusses implications of these findings from New York City for other cities and for the addition of autonomous vehicles to mixed TNC fleets comprised of both human-driven and autonomously operated vehicles. (Released December 2017)
A discussion of how this "revolution in transportation" is transforming customer expectations for transit and taxis too. (Published Fall 2017)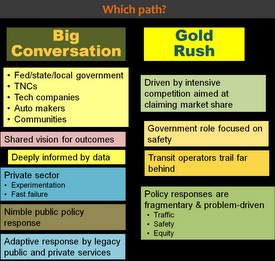 The Road to Shared Autonomous Vehicles
As tech firms and auto makers begin to test and look toward introducing fully autonomous vehicles, transportation, environmental and energy leaders are eagerly anticipating the replacement of private autos with systems of shared autonomous vehicles.
A system of shared autonomous vehicles (SAVs) holds the promise of saving lives, eliminating traffic congestion, increasing mobility, and reducing space devoted to parking in central cities.
While much of the discussion of SAVs is necessarily speculative and based on sometimes-arcane travel demand modeling, there is much to be learned about the path toward SAVs from current experience with Uber, Lyft and other app-based ride services. (April 2017)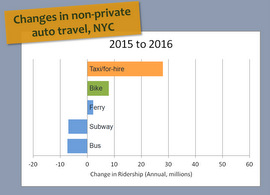 Over the last four years, Uber, Lyft and other app-based ride services have put 50,000 vehicles on the streets of New York City. Customers embraced these new services as offering a prompt, reliable and affordable option for traveling around town. Their growth also raises questions about their impact on traffic congestion and on public transit and taxi services that are essential components of urban transportation networks. A dearth of factual information has made it difficult, however, to assess their role in the city's transportation network or decide whether a public policy is needed.
This report presents a detailed analysis of the growth of app-based ride services in New York City, their impacts on traffic, travel patterns and vehicle mileage, and implications for achieving critical City goals for mobility, economic growth and environmental sustainability in New York and other major cities.
Findings are based on trip and mileage data that are uniquely available in New York City, providing the most detailed and comprehensive assessment of these new services in any U.S. city. (February 2017)
With big-state legislatures stymied over how to regulation Uber and Lyft, this report summarizes the debate on each of five key issues, assesses the arguments put forth by the various stakeholders, and makes recommendations designed to achieve core public policy goals of service, safety, competition and equity, while fairly balancing competing interests of companies, drivers, customers and cities themselves.
The report can help guide elected officials and the public to ensure that legislation works to improve access for all customers, leads to fair treatment of drivers and creates a competitive landscape for Uber, Lyft, taxis, new app-based services hitting the roads, and potential new entrants like Google. Decisions being made now lay the groundwork for the much-anticipated adoption of self-driving vehicles. (Released Sept. 2016)
This report outlines how government agencies can more effectively incorporate popular on-demand services like Uber and bikesharing to improve service for transit customers while also addressing some of the transit industries' biggest challenges. The report highlights strategies agencies can use right now to work with emerging mobility providers like ZipCar, Car2Go, bikeshare providers, and on-demand transit providers like Bridj or Via.
This report was prepared for the Transit Center, a foundation dedicated to improving urban mobility. Bruce Schaller is a co-author of the report.
A report from the Transportation Research Board (TRB), the largest unit of the National Academies of Sciences, Engineering and Medicine, discusses in detail regulatory and policy issues raised by the rapid growth of Transportation Network Companies (TNCs) such as Uber and Lyft and other innovative shared mobility services including carsharing, bikesharing and microtransit.
The report offers guidance to local and state elected officials and regulators on these rapidly evolving and complex issues.
Bruce Schaller was a member of the TRB committee and co-wrote the report.
---
Earlier Publications on Taxi Issues
Should taxi regulators adopt "open entry"? What are the effects of open entry, medallion caps and other types of entry control? What is the most effective approach?
This seminal paper assesses these issues based on the experiences of 43 cities in the United States and Canada. Advantages and disadvantages of regulatory approaches ranging from deregulation to strict medallion caps are analyzed, and seven specific implications for entry control are discussed. Published in Transport Policy, the report has important lessons for today's debates over regulation of Uber and Lyft, and how to fashion a level playing field for fair competition with taxis. (2007)
This article discusses eight elements that characterize well functioning taxi systems. Cab operators and regulators can use these elements as reference points in thinking about how to improve the regulatory system and industry structure in their city — and thus keep taxi issues out of the political kettle. (2005)
Twelve percent of Americans used a taxi or limousine service in the previous month. Who are the men and occasionally women who deliver taxi and limousine services? What are their backgrounds, how much do they work, how much do they earn?
Based on U.S. Census data, this report shows the increase in immigrant drivers and the predominance of men (although the number of female drivers is growing) in a wide ranging profile of taxi and limo drivers. (2004)
In cities that control the number of taxicabs by law or regulation, setting the number of cabs is one of the most important decisions made by taxicab regulators and elected officials. This study identifies primary factors related to demand for taxicab service in the United States. Published in Journal of Public Transportation, 2005.
---
Revised in March 2006, this is the "indispensable" guide to the New York City taxicab industry, says the Financial Timesof London. Information on taxi ridership, trip purposes, fares, customer satisfaction, service availability, industry finances, driver earnings, medallion prices, cars, accidents, driver quality, driver background and nationality, and history and development of the NYC taxi industry.
The cab fleet is not just 13,000 individual vehicles — it also forms a spatial, economic, environmental and social system. This essay, written as part of the Design Trust for Public Space's 2005 Designing the Taxi project and exhibition, assesses the current taxi system and proposes possible systemic changes to improve service.
New York City cabbies are less crash-prone than other drivers; as a result, passengers are less likely to be injured as a passenger in a taxicab or livery car than as an occupant of other vehicles. The report presents a wide-ranging analysis of NYC crash data. (2006)
This report examines data collected over the past decade to assess the relationship between driver earnings and motor vehicle crashes involving taxicabs. The study finds that there appears to be a strong relationship between taxicab crash rates and driver incomes. Higher driver incomes are associated with lower crash rates. (2004)
This published study utilizes a unique dataset from New York City to quantify how taxi fare increases affect trip demand and the availability of taxi service, in the first published statistically-significant estimates of taxi fare elasticities.
At the end of the century, the NYC taxi industry set new records for ridership, revenue and occupancy.  At the same time, service availability neared its lowest point in at least a decade.  This report summarizes comprehensive data on taxi ridership, availability and industry finances.
Issues in Taxi Regulation
Who drives taxicabs and why? What are their major problems? How do their problems affect the industry and passengers? How is the taxi industry organized? Is the famous (or infamous) taxi medallion system good or bad? What is leasing? Why do drivers hate it? Are their complaints merited? How has leasing affected the industry? And what can be done about the "taxi mess"?
This 3-part series of papers examines these questions and evaluates a range of policy solutions. Published in the journal Transportation Quarterly, Fall 1995, Winter 1996 and Spring 1996.