A Guardian US / Center for Public Integrity investigation into how the oil lobby has worked for decades to influence US government policy — and is tightening its hold
Part One

A century of influence: big oil and the White House
Thursday

Fueling dissent: How the oil industry set out to undercut clean air
Next Week

Venue of last resort: the climate lawsuits threatening future of Big Oil
…The Office of Information and Regulatory Affairs, which she called a "small but mighty" division of the White House Office of Management and Budget. "If you are a very pro-regulatory administration, then you are not going to appreciate the work that OIRA does," Rao warned the audience, likening her office to a "roadblock" against burdensome policies that hurt the economy. "The pace and scope of deregulation that's occurred is truly unprecedented, and we're just getting started."
The agency has routinely come up short of basic transparency guidelines recommended by the Government Accountability Office, garnering a reputation on Capitol Hill as a black box that heavily edits or kills regulations with little explanation in Republican and Democratic administrations alike. Cass Sunstein, who led the office during the Obama administration, has since defended the practice of derailing particular rules by putting them on a "shit list."
While OIRA has resisted public scrutiny, it has held its doors open for industry.
Since April 2014, 35 of OIRA's 712 meetings on proposed EPA regulations have been with API representatives – including a 2015 conference call with the institute's president, Gerard, over ozone. The institute, along with the American Chemistry Council and ExxonMobil, ranked among the top 10 groups that met with OIRA from 2001 to 2011. Such encounters wield influence: a 2015 study by University of Wisconsin-Madison researchers found the agency was more likely to edit rules when lobbied by industry than by public interest groups. Rao's office did not respond to requests for comment, but on its website OIRA notes it will meet with "any party interested in discussing issues on a rule under review".
'Quality of Life'
Bias toward industry can be traced to its founding. Though OIRA was created in 1980, its roots date to the EPA's formation in 1970. As a counterweight, Richard Nixon established the National Industrial Pollution Control Council, an advisory committee within the Commerce Department made up entirely of industry executives.  Members regularly reviewed and commented on draft regulations before they were released to the public, weighing in on matters such as leaded gasoline and the Clean Air Act.
Industry members of the committee – which was overseen by secretary of commerce Maurice Stans – coordinated a public-relations effort emphasizing the enormous costs the oil industry claimed it was absorbing to improve the environment.
In February 1971, the pollution committee advised Nixon aides to prioritize costs. The White House budget office obliged that October by creating a new program called Quality of Life Review, which assessed major environment, health and safety regulations. Tapped to lead the agency was bureaucrat Jim Tozzi, who had shown a passion for deregulation at the US Army Corps of Engineers.
Quality of Life became all about reining in the EPA, Tozzi explained during an interview with the Center for Public Integrity. Occupying a floor of the Executive Office Building next to the White House, his office quickly went to work on the EPA's proposed Clean Air Act guidelines. "I was like a little despot," Tozzi said. "Somebody needed to regulate the regulators."
Under Jimmy Carter, the Quality of Life program became OIRA in 1980, with Tozzi as deputy administrator. In 1983, Tozzi left the agency to join a law firm headed by William Ruckelshaus – the EPA's first administrator, a Nixon appointee and an early champion of cost-benefit analysis. Tozzi now runs the Center for Regulatory Effectiveness, a think tank he founded and staffed with former OIRA employees that assesses regulations.
Tozzi said his plan for policing the EPA – and every other federal agency – has survived nine consecutive administrations and looks bright under Rao. "The Trump administration," he said admiringly, "has gotten the number of regulations going out to a trickle."
'Virtually indistinguishable'
As Nixon's pollution control committee quietly lobbied on industry's behalf, the National Petroleum Council was doing its part to paint Big Oil as a linchpin of the US economy.
A council environmental report in 1972 – prompted by an oil spill off Santa Barbara, California, three years earlier that left an estimated 3m gallons of crude oil in the Pacific – cast the disaster as an anomaly and urged government to continue fostering oil and gas development.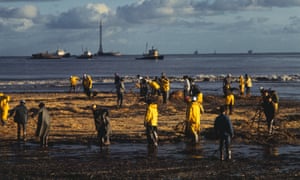 Citing research by API, the report also played down climate change. "Carbon dioxide concentrations do appear to be increasing for reasons not well understood," the council wrote, adding that scientists would have to wait until the year 2000 to determine "whether or not a serious problem exists". Even if the gas were having an effect, controlling such a ubiquitous pollutant could "impose impossible administrative and enforcement burdens".
But things weren't as ambiguous as the council made them sound. API papers on atmospheric pollutants in 1968 and 1969 made it clear that rising carbon dioxide levels came from the burning of fossil fuels and that warming was inevitable. The 1968 paper warned that there could be "melting of the Antarctic ice cap, a rise in sea levels [and] warming of the oceans", while the 1969 paper noted that carbon dioxide levels would rise "as our combustion economy continues to consume increasing amounts of fossil fuel". Several authors of the petroleum council's report likely knew this, given that they were top API officials – including the president, Frank Ikard, and public-affairs executive PM Gammelgard.
Carroll Muffett, president of the Center for International Environmental Law, an advocacy group that tracked down the climate studies says API's research during the 1960s makes the case "compellingly that the science is really sound".  Muffett claims the petroleum council's report is proof that high-level API executives were aware of the grave threats of warming and worked to hide the revelations.
Digging through archives, Stanford University researcher Ben Franta found what he believes is API's earliest public reckoning with climate change: a November 1959 conference it hosted at Columbia University where a renowned scientist posited the emerging threat before 300 "government officials, economists, historians, scientists and executives".
Within years, API was feverishly commissioning air-pollution research that resulted in the 1968 and 1969 papers. "API had this long-running awareness of climate change and climate science, and in that history the message they were getting from scientists was that climate change was real," said Franta, who is writing his dissertation on the trade group's activities. "If they wanted to head off that threat, they were going to have to think about acting then."
API leaders have played key roles at the National Petroleum Council, a federal body chartered in 1946 whose reports claim to be nonpartisan and in the national interest. The council's roots date back to World War II as a quasi-government agency that aided the war effort. It later became an adviser to the interior department and is now attached to the energy department, which did not respond to requests for comment. Members of the privately funded council are prohibited from lobbying and self-dealing but a review of its secretive, 71-year history shows it has long carried water for industry, minimizing environmental concerns while promoting deeper and riskier drilling.
The council refused to provide the Center for Public Integrity with any of its subcommittee records, and declined to provide all documents prior to 1973 – including records underlying its 1972 environmental report. Its executive director declined to comment.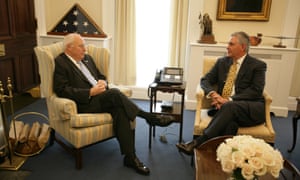 The council's composition and views have been fodder for complaints from those outside of industry. Its leaders have been the biggest, loudest voices in oil; until February, former ExxonMobil CEO and current secretary of state Rex Tillerson was council chairman. Halliburton CEO Dick Cheney led the group before he became vice-president in 2001.
Of 192 members on the council's roster, 144 come from the oil and gas industry. Over its lifetime, the council claims, almost a third of its 2,800 recommendations have been "fully implemented".
These recommendations – to open more of the Arctic to drilling, for example – stand a good chance of being embraced by the Trump administration. At the petroleum council's meeting in September, energy secretary Perry put his audience at ease. "The government's not going to be in your way," he said