By Amy Westervelt
What we learned this election is that you absolutely do NOT have to be pro-fracking to win Pennsylvania. Biden proved that wrong and so did Nikil Saval, the Green New Deal candidate who won the senate race in Pennsylvania this week.
A Green New Deal For Pennsylvania
From Senator Nikil Saval
Our state is suffering from a crisis of economic inequality, ecological devastation, climate change, and public disinvestment. Most Pennsylvanians' wages have stagnated, and many communities across our state suffer from deep poverty and despair. The climate crisis threatens the futures of people all over Pennsylvania—none more so than frontline and vulnerable communities and young people—on top of the thousands of premature deaths and tens of billions of dollars of public health costs already caused by fossil fuel extraction and consumption. And our state government's dramatic neglect of public services has led to toxic schools, unaffordable college, and crumbling infrastructure—all while working class Pennsylvanians shoulder far too much of the state's tax burden.
Pennsylvanians need a Green New Deal.
A Green New Deal is the path we must follow to realize our rights, as humans and people of our state to clean air, clean water, clean transportation, healthy food, renewable natural resources, and a stable and livable climate. We must make these rights concrete realities in the lives of all Pennsylvanians. The Green New Deal is not one specific policy, but a recognition that our three crises are inseparable, and a commitment to addressing them at once: by attacking injustice, creating jobs, and empowering workers; by halting climate change, reversing environmental injustice, and caring for the natural world; and by investing in the public goods and services that working class people need to survive and prosper.
100% clean energy
The past year has been a good one for serious state climate legislation, providing Pennsylvania with many templates for action. The successful pushes have been based on three key components: setting ambitious targets consistent with the science and scale of the problem; building in equity and justice from the beginning; and aligning coalitions of community groups, labor, and elements of the private sector by recognizing and removing barriers to action.
Nikil supports:
Setting swift and responsible targets, including eliminating coal-generated electricity by 2025, and achieving 100% clean electricity by 2030.
The approach laid out in Representative Chris Rabb's clean energy bill (HB 1425 of 2019), in which the 30 year transition is iteratively planned with updated analysis and interim targets for emissions reductions, job growth, and equity.
A climate equity fund by which 40% of benefits and investment during the transition are directed to frontline and vulnerable communities, including communities of color, the poor, and deindustrialized communities.
Aggressively updating the Alternative Energy Portfolio Standards to require renewable electricity, and making community-owned renewable energy projects legal. 
Shifting the Pennsylvania Utility Commission away from judging utilities on the profitability of their capital investments, to a performance-based model that considers what matters to Pennsylvanians: decarbonization, equity, energy security, and public health.
Establishing a Regional Energy Center. Pennsylvania lags behind leading states in energy efficiency programs, ranking just 18th in the latest survey of the American Council for an Energy Efficient Economy. Pennsylvania should start by following Massachusetts's lead, and establishing a rough equivalent to that state's Clean Energy Center—perhaps a Keystone Green Energy Center—but with stronger direction from the state's Department of Environmental Protection. A Keystone Green Energy Center (KGEC) would unite the state's utilities around the goals of increased energy efficiency through green buildings retrofits, and full electrification of Pennsylvania's buildings by 2040. 
KGEC would also align Pennsylvania's energy efficiency building codes with California's wherever feasible, and ban all new gas hook-ups by 2024, such that all heating, cooling, and cooking systems run on electricity. Emergency diesel, propane, or other fossil fuel-based sources of emergency, back-up power will be permitted until adequate electric battery storage is deemed adequate by KGEC. KGEC would also provide technical assistance to municipalities, public agencies, and utilities like Philadelphia Gas Works, as they increasingly shift toward electrification and efficiency as guiding principles. 
KGEC would also develop universal standards to ensure comfort and safety of all building heating and cooling systems, as every Pennsvylanian has a right to safe, comfortable temperatures at work and at home year-round.
A human right to clean transportation
Philadelphia deserves a fare-free, fast-moving public transportation system. Through PennDOT and SEPTA, we must invest in our best low-carbon transit option: electric buses, electric vehicles, and more frequent service on our passenger rail networks.
Nikil supports:
Reducing SEPTA fares to $1 per ride, with a path to free service (dependent on federal funding) in place. SEPTA should immediately be free for everyone under 18 years of age.
Working with PennDOT to increase service, offering a bus every eight minutes and a train every five minutes in Philadelphia. This will require hiring more drivers/operators and purchasing more vehicles—putting more union drivers to work and providing more Philadelphians with a reliable, low-carbon option for their commute.
A climate equity fund by which 40% of benefits and investment during the transition are directed to frontline and vulnerable communities, including communities of color, the poor, and deindustrialized communities.
Adopting a 10-year moratorium on new highway construction projects that subsidize sprawl and hurt urban and suburban communities in the region. Those funds should be redirected to repair the state's crumbling infrastructure and developing plans to cap or remove the most toxic, congested urban freeways in Philadelphia.
Investing heavily in a rapid transition to electric vehicles around the state. This includes a fleet-wide conversion of all state and local government vehicles to EVs by 2030, a PennDOT-led charging station construction program that builds out a statewide system for EVs and puts more Pennsylvanians to work, and a state-level buyback/credit program to accelerate the switch from combustion engine to electric vehicle ownership for everyone else
Environmental justice and economic inclusion
Pennsylvania's fossil fuel industry has left a mass of human and environmental wreckage in its wake. We can see the cost of their industry's unfettered reign in the recent Philadelphia Energy Solutions (PES) refinery fire, but we can also find a quieter, more nefarious legacy of extracting, storing, and refining oil and natural gas in this state: the blanket of brownfields and other toxic sites littering the Philadelphia and Pennsylvania landscape. As we push the fossil fuel industry out of the energy sector, we must force them to pay for the damage they've inflicted on our city and state by through a jobs program that supports all workers, whether Black, brown or white.
Nikil supports:
Cleaning up every single brownfield and toxic site in Philadelphia with union labor. As we stand up the clean energy sector in Philly, it's vital that these jobs (all of which pay well and are shovel-ready) provide an off-ramp for oil and gas industry workers. 

Basing all tax incentives, subsidies, contracts, procurement, and loans on project labor standards. For example, a clean energy project could receive a 50% tax exemption for meeting minimum program requirements (contracting with businesses that have a history of labor law compliance, are owned by women and minorities, and have local workforces and apprenticeship programs); a 75% tax exemption for additionally meeting prevailing wage rates determined by collective bargaining; and a 100% tax exemption for being governed by a community workforce agreement or project labor agreement.

Making sure remediated sites stay under the control of community residents in co-operative ownership, so that they can exercise self-determination over the future of these spaces.

Establishing a Green Bank to to provide financing for clean energy projects. A Green Bank can use public investment to draw in private investment, create new markets, serve as a hub for innovation, and guide investment to socially beneficial ends. Green Bank loans would be subject to labor standards eligibility criteria, and also encourage worker cooperatives.
Transforming agricultural policy to promote sustainable ecology, long-term soil health, food security, extreme weather resilience, broad land ownership, and labor rights. We should also recognize the human and natural value of our public lands, by investing in restorative forestry management and state parks. In Philadelphia, state grant money can be used to support urban agriculture, expanding community gardens and farms, which can be centers of community resilience where Philadelphians care for each other and the natural world.
Increasing operational funds to public amenities to offer wrap-around services all across the state. Such services include child care, basic medical care, and emergency relief services (heating and cooling centers during harsh weather, disaster relief headquarters during emergencies, resiliency trainings for increased extreme heat days on a regular basis).
A Green New Deal for schools, libraries, and recreation centers.
Pennsylvania's schools are in dire need of repair, including urgent needs for the removal of lead, paint, and mold. Other public facilities also need repair. All these needs are compounded by increasing extreme weather, especially increased extreme heat, even as many public schools do not even have basic air conditioning capability. Pennsylvania should create a specific green infrastructure fund for jointly undertake capital repairs and green upgrades at the same time. Through integrated project management, companies compete on bids to conduct waves of retrofit that address health needs while preparing public buildings for all-electric, modern green building systems, like air source heat pump HVAC systems that provide both heating and cooling. The technologies in question will be increasingly deployed in commercial and residential buildings throughout the Mid-Atlantic, North-East, and Midwest (regions with similar weather patterns), bringing down costs. The developments of workers' and firms' skills and capabilities will help catalyze a broader green buildings economy, making Pennsylvania into a regional leader with commensurate economic benefits.
As capital repairs and green upgrades modernize schools, libraries, and rec centers, we will fight to increase operational funds to these public amenities to offer wrap-around services all across the state, such as child care, basic medical care (eg, from physician assistants), and emergency relief services (heating and cooling centers during harsh weather, disaster relief headquarters during emergencies, resiliency trainings for increased extreme heat days on a regular basis). Because green retrofits will also lower water and energy bills by between one and two thirds, depending on local particulars, reduced utility payments will also increase operational budgets.
I took the No Fossil Fuel Money pledge
I pledge not to take contributions over $200 from oil, gas, and coal industry executives, lobbyists, and PACs and instead prioritize the health of our families, climate, and democracy over fossil fuel industry profits.
If we're going to win  – we will need to have the financial resources to take on the status quo. That is why your contribution is so important. Please give today.
**
By Amy Westervelt
I don't watch cable news, in general. This week I watched more than I have in my entire life, and one thing I couldn't stop thinking about as I did was something Kendra Pierre-Louis said to us in the first episode of this season of Hot Take : that climate, like race, is considered an "activist" issue for journalists. As though there's some sort of bias inherent to acknowledging that racism and climate change exist. It's ridiculous! And yet utterly, devastatingly true.
For decades the media allowed itself to be used as a tool of climate disinformation. An obsessive devotion to the appearance of objectivity led many an editor and journalist to be easily tricked  into parroting fossil fuel industry talking points. Most print and TV outlets stopped giving a platform to full-on climate deniers in recent years (although they still sneak through on occasion), and national newspapers really upped their game with coverage of this year's fires and storms as what they are: part of the climate crisis.
MAY 7, 2019 | 3:46 PM
A bipartisan group of state legislators is re-introducing a pair bills aimed at getting Pennsylvania to have 100 percent renewable energy by 2050.
Rep. Chris Rabb (D-Philadelphia) sponsors the House version, HB 1425, and said climate science makes it clear action is needed.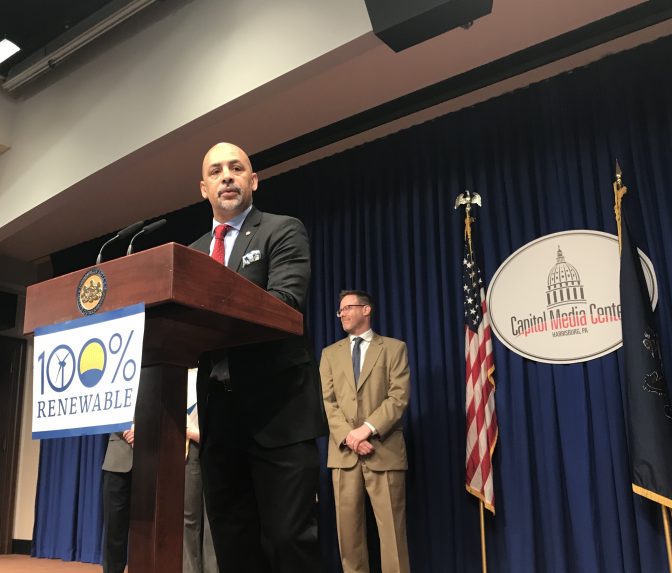 Marie Cusick/ StateImpact Pennsylvania
Rep. Chris Rabb (D-Philadelphia) speaks at the Capitol Media Center in Harrisburg during an event to reintroduce bills that aim to get the state to 100 percent renewable energy by 2050.
"Most people believe in science—perhaps most people in this building," Rabb said, referring to the state Capitol. "What does the science say? It says we are really pushing it."
Pennsylvania is already experiencing disruptions from the warming climate, including more precipitation and extreme weather. For example, average annual precipitation in the state has increased by about 10 percent since the early 20th century and is projected to increase another 8 percent by the middle of the century.
Sen. Tom Killion (R- Chester) is sponsoring the Senate version of the bill. He said he will be in his 90s by the time 2050 rolls around, but mentioned his children and grandchildren as one of the reasons he's getting behind the measures — noting climate change is not a partisan issue.
"It's not just about the environment. It's about jobs," Killion said. "These are great, high-paying jobs we can create by going to renewable energy."
The measures include language creating a Just Transition Community Advisory Committee, to help ensure workers displaced from fossil fuel industries find new jobs.
The bills' supporters acknowledge the chance of passage remains unlikely in Pennsylvania's current political landscape. Similar measures failed to advance last year. Among U.S. states, Pennsylvania ranks second and third for production of natural gas and coal, respectively.
Gov. Tom Wolf, a Democrat, unveiled a climate action plan last week that aims to reduce emissions 80 percent from 2005 levels by 2050, and he has called climate change, "one of the big issues we have to deal with."
His office did not respond to a request seeking comment on the renewable energy bills Tuesday. Spokespeople for the House and Senate Republicans, which hold the majorities in the legislature, also did not respond to requests for comment on the measures.