Posted July 15, 2016 by Charles Morris & filed under Newswire, The Vehicles.
Elon Musk has said several times that he rarely thinks about marketing, and that if you build a truly revolutionary product, the marketing will take care of itself. Tesla has followed this philosophy since its founding. It participates in only the largest, most high-profile auto shows, gives access to only a few carefully selected journalists, and does little, if any, advertising.
How does this compare to the gargantuan sums that the legacy automakers spend on ads?
In an email to investors, Global Equities Research Analyst Trip Chowdhry (via Benzinga) revealed the wildly varying amounts spent on ads by several of the world's major carmakers. According to Chowdhry, the industry average is $1,000 per vehicle sold (in the US market in 2015).
Most of the biggest spenders are luxury brands: Jaguar (owned by Tata) leads the pack, spending $3,325 in advertising per vehicle sold. Lincoln is in second place with $2,550 per unit. Oddly, Fiat/Chrysler is in a close third place, followed by Lexus and Cadillac.
Other highly popular brands spend much less. Near the bottom of the list are Honda and Toyota, which spent $258 and $248, respectively. The stingiest of all is of course Tesla, which Chowdhry says spent a mere $6 per vehicle sold in 2015.
The Benzinga article offers no details of what is considered to be "advertising." Tesla does put on presentations for vehicle launches and other events, but we are not aware that it has ever purchased any TV, magazine or newspaper ads.
Sadly for the advertising industry, the company nevertheless receives massive amounts of publicity. "$6 of ad spent per vehicle for the product generating more than $8 billion in revenues and more than $14 billion in bookings is unheard of in the industry," writes Chowdhry.
Source: Benzinga
Tesla Spends $6 On Advertising Per Vehicle; The Industry Average Is $1,000
Wayne Duggan , Benzinga Staff Writer      FOLLOW July 07, 2016  
Tesla Motors Inc (NASDAQ: TSLA) has gotten a lot of criticism for its aggressive spending in recent years, but there is certainly one thing that the company is not overspending on: advertising.
In a new email to investors, Global Equities Research analyst Trip Chowdhry discussed one astonishing metric about Tesla's young business that should give Tesla bulls reason for optimism.
While other car companies are spending between $248 and $3,325 in advertising per car sold, Tesla is spending just $6 per car.
"Tesla Power and Leverage is unprecedented," Chowdhry told investors. "$6 of Ad Spent per Vehicle for the product generating more than $8 Billion in revenues and more than $14 Billion in bookings is unheard of in the Industry."
Related Link: How Predictions Of An Impending Market Crash Might Actually Be Evidence It Isn't Coming Yet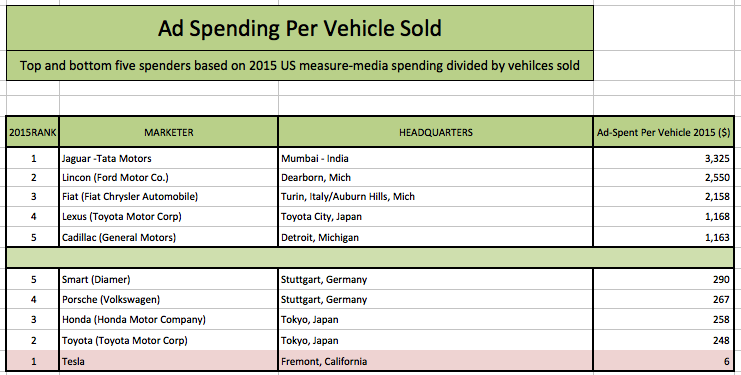 ---
Own a #1 Breakout Stock Every Month?
For over a decade, Benzinga has lead the way when it comes to investor access to information. The Benzinga Breakout Opportunity Letter uses three market-beating 'Delta Factors' to find stocks that could surge in the weeks ahead. Click here to find out how you can get the name of Benzinga's next breakout stock recommendation.
---
According to Global Equities Research, Toyota Motor Corp (ADR) (NYSE: TM) and Honda Motor Co Ltd (ADR) (NYSE: HMC) have the next lowest average ad costs per vehicle in the entire auto industry at $248 and $258, respectively.
On the other end of the scale, Tata Motors Limited (ADR) (NYSE: TTM) spends $3,325 in advertising per Jaguar sold and Ford Motor Company (NYSE: F) devotes $2,550 of ad spend to each Lincoln sold.
Chowdhry remains extremely bullish on Tesla and has a $385 price target for the stock.
Disclosure: The author holds no position in the stocks mentioned.
© 2020 Benzinga.com. Benzinga does not provide investment advice. All rights reserved.