Their bill aims to electrify bus and rail infrastructure, with the aim of reaching net-zero U.S. carbon emissions by 2050. By Jarrell Dillard and Leslie Kaufman March 18, 2021
Progressives in the House and Senate plan to set down a marker Thursday for President Joe Biden's infrastructure plans, introducing a $500 billion proposal to shift U.S. transportation away from fossil fuels.
Senator Elizabeth Warren and Representative Alexandria Ocasio-Cortez, two proponents of the Green New Deal, are behind the bill, joined by Senator Edward Markey of Massachusetts and Representative Andy Levin of Michigan. Their plan aims to accelerate the process of making the U.S. carbon neutral by 2050—a goal Biden campaigned on—by putting the money in the hands of state, local and tribal governments or transit authorities to make sweeping investments in public transit systems.
"The climate crisis is an existential threat to our planet," Warren said. "But it's also a once-in-a-generation opportunity to rebuild our crumbling infrastructure, create a million good new jobs, and unleash the best of American innovation."
The bill stands little chance of making it through Congress on its own, but the group plans to push the Biden administration to include the measure in its yet-to-be-unveiled next package tackling infrastructure, climate goals, and economic growth. Even that faces multiple obstacles to getting through Congress, however. While Republicans have shown interest in upgrading transportation systems, they're already raising concerns about adding to the nation's debt.
Meeting Biden's net zero pledge will require electrifying much of the economy—including, of course, as much transportation infrastructure as possible. Currently, this sector of the economy accounts for roughly 30% of the country's annual carbon emissions. Public transit holds a special place in climate activists' hearts because it maximizes people movement, reduces congestion, and will still be significantly less energy intensive per passenger mile than cars even when individual vehicles are electrified.Sen. Warren on Green Mass Transit, Wealth Tax, Inequality
This bill, the BUILD GREEN Infrastructure and Jobs Act, works double-time by updating and greening public transit at the same time. It offers a minimum of $150 billion over 10 years for electric vehicle infrastructure and to replace and electrify the nation's public bus fleet—including commuter buses and school buses—and commuter rail lines, many of which still run on diesel. The rest of the money in the bill will be available for EV charging equipment and infrastructure projects such as highways and bridges, so long as they install EV chargers along the way.
As expected based on Biden's campaign promises, the bill reserves 40% of funding to "serve a frontline or vulnerable community." And, perhaps anticipating that all communities will have a hard time raising taxes after Covid, the bill ups the federal contribution to projects from 80% to 85% and gives the Secretary of Transportation the option to wave local matching funds altogether for select projects.
The bill already has 15 co-sponsors—all Democrats, plus Senator Bernie Sanders, an Independent—and endorsements from more than a dozen climate advocacy groups.
Democrats used a fast-track budget process to pass Biden's $1.9 trillion pandemic stimulus package without a single Republican vote, but the president has said he wants the infrastructure package—which could carry a price tag of $2 trillion or more over 10 years—to be bipartisan. It could be easier to lure GOP support for an infrastructure initiative after House Republicans voted Wednesday allow members to request spending on specific projects. Republicans previously banned such dedicated spending, known as earmarks, after several corruption scandals.
Still, the climate provisions will likely get major pushback from Republicans, who've used the Green New Deal as a cudgel against Democrats since before it was even introduced as a non-binding resolution in 2019. Progressives may also face opposition from within their own party on measures in the bill that would seek to guarantee a $15 minimum wage for anyone working on projects funded through the bill. Their attempt to include a $15 federal minimum wage in the stimulus bill was foiled by a technicality of the budget process, but moderate Democrats had already come out against it.
The #BuildGreen Act will:
Invest $500B to electrify buses, commuter rail, and other public transportation systems and build out electric charging stations
Create nearly 1M jobs with strong labor protections
Ensure at least 40% of funds help frontline communities— Elizabeth Warren (@SenWarren)March 18, 2021
Data for Progress, a left-leaning think tank, estimates that the bill will save $100 billion per year in avoided health costs, prevent 4,200 deaths per year by reducing air pollution, and create a million new jobs. Those created directly through the program would have enhanced labor protections, including three months of paid family leave, but Data for Progress also expects the measure to have ripple effects throughout the power sector. Namely, to generate enough renewable electricity to cover new electricity needs will require $7.5 billion for new power projects and $20 billion for energy storage infrastructure. There's enough money in the bill for both, according to the think tank.
Putting these measures in the infrastructure bill may make it more difficult for the White House and congressional leadership to keep Democrats united. However Warren has been building clout with Biden, with many of her former staffers and protégés holding key posts in the administration. While the president hasn't endorsed Warren's signature proposal, a tax on wealth, his infrastructure bill will likely include several tax increases on wealthy businesses and corporations, constituting the largest tax hike since 1993.(Adds Warren tweet on the bill, corrects possible price tag of infrastructure bill in ninth paragraph.)Have a confidential tip for our reporters?
GET IN TOUCHBefore it's here, it's on the Bloomberg Terminal.LEARN MORELIVE ON BLOOMBERGWatch Live TVListen to Live Radio
https://labor4sustainability.org/files/JTLP_report2021.pdf This Is What the Beginning of a Climate-Labor Alliance Looks Like: The PRO Act is emerging as the left's answer to a classic political tension.
March 18, 2021 Kate Aronoff THE NEW REPUBLIC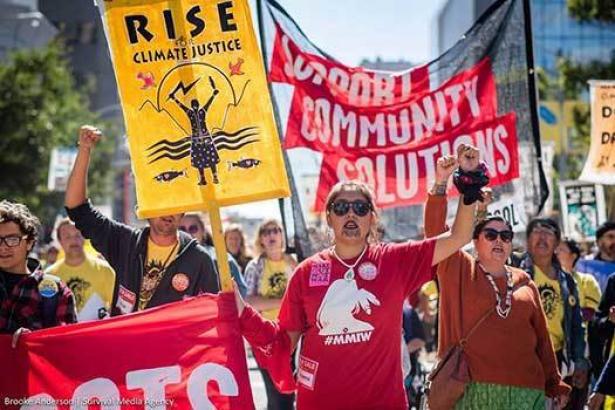 Climate Justice Alliance Supports Green New Deal / Labor Network for Sustainability
Tuesday night, the Protecting the Right to Organize Act passed the House by 225–205 votes. If it passes the Senate and becomes law, it will peel back over half a century of anti-union policies, including core provisions of the Taft-Hartley Act of 1947. It would override state-level right-to-work protections—the darlings of the Koch brothers machine—and create harsher penalties for employers who interfere with employees' organizing efforts. But in myriad ways, the act might also do something unexpected: set the stage for sweeping climate policy.
A coalition led by the International Union of Painters and Allied Trades, or IUPAT, and the Communication Workers of America is mobilizing to push the PRO Act over the finish line in the Senate. The youth climate group Sunrise Movement was an early recruit, and the Democratic Socialists of America—including its ecosocialist working group, which is also pushing for a Green New Deal—will be deploying its members in key districts around the country to ensure it's passed. After a kick-off call over the weekend featuring Congressman Jamaal Bowman, Association of Flight Attendants-CWA head Sara Nelson, and Naomi Klein, DSA is holding trainings for its members throughout March as well as events around the country pushing key senators to back the bill in the lead-up to May Day.
Sunrise last week launched a Good Jobs for All campaign, which is urging on a federal job guarantee introduced recently by Representative Ayanna Pressley. Over the next several weeks, Sunrise hubs will be working alongside progressive legislators and holding in-district protests to advance five priorities for upcoming infrastructure legislation, including the PRO Act. After its passage through the House last night, a press release from the groups praised the measure as a "core pillar of the Green New Deal."
The alliances forming around the PRO Act buck long-held wisdom in Washington about what it would take to get labor unions and environmentalists to work together. James Williams Jr., IUPAT's vice president at large, has been frustrated by years of seeing the two talk past one another. Construction unions, in particular, have come to loggerheads with climate hawks over infrastructure projects like the Keystone XL and Dakota Access pipelines. "I would blame labor a lot of the time for this," he says, "but there have to be deeper conversations about the fact that labor is going to lose jobs that have been really good jobs for a really long time."
IUPAT is affiliated with both the AFL-CIO and the North American Building Trades Unions, or NABTU, with members doing everything from industrial paintwork to commercial glass installation to flooring. Tens of thousands of IUPAT members in traditional energy sectors, Williams said, stand to lose work. Those members now "make a really good living—all the same things that the Green New Deal wants to create. The PRO Act is a perfect bridge to that. In order to lift wages in new forms of employment, workers have to have the right to organize."
Though environmentalists have generally been Democrats in the United States, many haven't seen themselves as part of a tradition that includes organizing labor, with roots instead in conservation and legal fights to protect tracts of wilderness. One popular approach to navigating labor-climate tensions has been to try inoculating climate legislation against unions' de facto veto power among Democratic politicians, as accusations of so-called job-killing environmentalism are still catnip for reporters and the right. Often that means brokering agreements among union and green group leadership to focus on the more positive, less controversial aspects of green investments while avoiding touchier subjects like fossil fuel phaseouts. The downside of that is obvious: The U.S. desperately needs those fossil fuel phaseouts to meet climate targets. And avoiding tough conversations won't make actually existing energy transitions any easier, much less build shared trust.
The left, including many young climate organizers pushing for a Green New Deal, has a different theory of change and approach to coalition-building. A new generation of climate organizers see workers as a critical piece of the mobilization needed to pass any sweeping climate legislation and create a more sustainable world. Labor reforms like the PRO Act, they reason, are necessary for making both possible. Climate organizers are also all too conscious of the high-level negotiations among Beltway insiders that have failed in the past. The Wagner Act of 1935 offers some prior proof of concept, having helped build the coalition that pushed the New Deal to go further and faster, following strikes in the 1930s. Working with labor in that sense is less a matter of risk management than of working toward shared interests.
Sydney Ghazarian coordinates DSA's Green New Deal campaign. "The only way that a Green New Deal can live up to the promise of creating millions of union jobs is if workers can collectively organize for their needs," she tells me. "The PRO Act won't magically make a mass workers' movement happen, but it does eliminate some of the structural barriers that are preventing that from happening.… People are happy to point to the fact that the clean energy economy is one of the fastest-growing sectors, but what's left out of the equation is whether these are good jobs. By passing the PRO Act, we can provide proof of concept: We can make these jobs good jobs."
Daniel Dominguez, whose day job is with the National Union of Healthcare Workers, has been helping lead DSA's work on the PRO Act as a member of the Los Angeles chapter and part of its Democratic Socialist Labor Commission, a national body. "There's a pretty broad recognition from our membership that a lot of our key demands are going to need a strong labor movement. The PRO Act on its own is not the transformational change we're looking for but is a prerequisite for things like a Green New Deal and a federal job guarantee."
As a labor organizer, Dominguez told me, "we get a ton of inquiries from people who want to organize and want a union. They're ready, but run into the limitation that people are scared for their jobs.… They know the reality that people have gotten fired for organizing," he says. "This would remove some of those structural obstacles. If there are real penalties in place for employers who violate the law, that gives employees the confidence they need to continue with their organizing efforts."
There's also the chance that either the PRO Act or voting rights reform could trigger a fight over the filibuster that could yield dividends for climate policy down the line, opening up paths for climate policy beyond reconciliation or as line items in broader packages. With the filibuster in place and a 50–50 Senate, sweeping, stand-alone climate legislation will be extraordinarily difficult to come by.
A stronger labor movement, PRO Act advocates argue, is also key for ensuring a transition off fossil fuels doesn't throw workers in those sectors under the bus. A forthcoming report from the Labor Network for Sustainability pulls together interviews with union and nonunion workers across industries that have experienced transitions, from steel and textile mills to auto plants and coal mining to grocery stores, where self-checkout machines have ushered in major job losses. Its upshot isn't a happy one: "The history of economic transitions in America is a history of injustice and failure." Many who lost jobs as a result of the North American Free Trade Agreement, the report's authors note, were harshly critical of the assistance provided by the Trade Adjustment Act, saying it was difficult to access and prepared them for jobs that didn't exist nearby.
For years, promises of an energy transition boiled down to teaching coal miners to code. In attempting to sell climate policy as job creation, the Biden administration has emphasized the potential to create potentially millions of jobs in solar and wind and electric vehicle manufacturing. Often, though, those jobs—if they do happen to be unionized—exist states away from work that's closing down, with relatively few upsides for communities facing a massive hit to their tax base and small businesses. "A lot of folks don't move, because they have ties to the community that go beyond employment. And they spiral into despair. There's this talking point that people move to opportunity, and it's just not true," says Mijin Cha, an assistant professor of urban and environmental policy at Occidental College and a lead author on the report.
In industries already facing job losses, as in coal mining and power plants, worker organizing has fought to ensure mine operators don't simply abandon employees when companies go belly up. Blackjewel miners blockaded train tracks ferrying coal to get back pay they were owed after the company collapsed. The United Mineworkers of America has in recent years fought to secure federal protections for its pensions, after coal bosses shirked employee and environmental obligations through bankruptcy courts. "The union can't necessarily stop the plant from shutting down, but it can get you access to a much better package than if you don't have a union," Cha told me.
"Our members are scared," Williams relayed. "If they're working in a power plant, or if they're working in the fossil fuel industry or even nuclear, they're scared when they hear things like, 'We want to shut down fracking.' Our members' natural reaction is to push back. I think we as labor leaders have to do a better job of listening, and so do activists in the environmental justice side of things." He sees climate and labor as "natural allies when it comes to social justice," and the PRO Act as "a great place to not just hear each other but act together," both to navigate transitions that don't screw workers over and to set standards for a greener economy.
Williams noted the massive amount of work that green investment would create for IUPAT and other trades. He pointed, in particular, to a deal struck between the Danish wind developer Ørsted and NABTU, which will bring hundreds of unionized jobs to offshore wind projects over the coming years. Such agreements, IUPAT organizer and DSA member Ryan Kekeris tells me, could create a "generation of construction workers whose only work experience is building green energy. To me, that feels like the model and what we'd like to see out of something like a Green New Deal." The PRO Act would level the playing field for such things to happen around the country, helping snuff out anti-labor practices in right-to-work states that lead to rampant misclassification and low wages—including in today's extractive industries.
A recent study by the Political Economy Research Institute and the Sierra Club, which has backed the PRO Act, finds that absent high-road jobs standards, many of the jobs that could be created by stimulus funds will be predominately low-wage and held mostly by white men. Ensuring prevailing wage standards, project labor agreements and other labor protections can make federal dollars more widely felt, along with—the report's authors suggest—making sure at least 50 percent of investments specifically benefit communities of color and those who stand to be worst hit by climate change and energy transitions.
At the heart of climate-friendly PRO Act campaigning is a simple insight: Fast-growing wind and solar industries won't treat workers better or recognize unions out of the goodness of their hearts. If those green jobs become union strongholds, it will be for the same reasons that many pipeline and refinery jobs today pay so well: Workers fought for them.
The next steps for the PRO Act are far from certain. It faces a steep battle in the Senate, where there's little Republican support and considerable Democratic skittishness. The White House supports the legislation, and Joe Biden urged Congress to put it on his desk. "Nearly 60 million Americans would join a union if they get a chance," Biden wrote in a statement released Tuesday, "but too many employers and states prevent them from doing so through anti-union attacks. They know that without unions, they can run the table on workers—union and non-union alike." It may yet be possible to pass some of the act's key points through reconciliation. In any case, climate and labor organizers now working together to pass it are eager to see that alliance continue.
"If this is effective, and we're able to win something like labor law reform," Kekeris said, "why wouldn't we transition into new organizing projects, and into directly fighting for the Green New Deal? We are fighting not only for workers' rights but for the planet itself."
[Kate Aronoff is a staff writer at The New Republic. @KateAronoff]
**
111 House Democrats are reintroducing a piece of legislation that could would make Medicare for All a reality. And though the new rollout is not being billed a climate policy, the crisis in the oil and gas industry shows why it's so central to ensuring the next decade is fair to workers who have helped power the past century.
---
Liberals and conservatives alike have scoffed at the idea that Medicare for All should have a place in climate policy. But for those transitioning out of polluting industries, it would be a gamechanger.
"If we had Medicare for All, there would be so much less to worry about," said Barragan.
Barragan was one of more than 100 people interviewed for a new report from the Labor Network for Sustainability on how workers and communities have been affected by plant closings and other major shifts in economies. The report, released Wednesday, draws on experiences from those in transitioning industries, including not only oil and gas, but also other sectors like steel and paper mills which are downsizing amid increased environmental controls, and grocery stores, which are seeing clerk jobs replaced with automated self-checkout counters. Though it's not tied to the reintroduction of Medicare for All, it explicitly calls for universal health care and shows how climate and health policy are intimately linked.
Mijin Cha, assistant professor of urban and environmental policy at Occidental College and a lead author on the report, said that health care was among the top concerns keeping workers in these sectors up at night.
"No one should have to be in that position," she said.
If insurance was provided by the state instead of employers, this wouldn't be an issue. Right now, unions have to fight hard to secure health care benefits from employers. Not having to worry about that could create the opportunity to make bigger gains in other parts of severance packages.
"We could win more for people who lose their jobs during closures," said Barragan. "Right now, whatever is negotiated relating to health benefits will ultimately affect the cost of other benefits that the worker will get."
Barragan said currently, his colleagues are often willing to make sacrifices in other areas to protect their health insurance, especially because polluting industries like oil and gas put employees at risk of all sorts of health issues just by going to work every day. Constant exposure to pollution tied to extracting and burning fossil fuels can increase the risk of asthma and cardiac disease. Studies also show that workers in offshore oil and oil refineries face higher risks of contracting cancer.
"In 29 years, two of my [coworkers] have passed away from cancer," said Barragan. "And I have two retirees that retired within the last five to eight years, who were diagnosed after retirement with cancer."
The toll of working in the fossil fuel industry isn't just physical, it's also psychological. The new report details the mental health crises that the looming threat of job loss can create for many people.
"A lot of these folks have been in a period of uncertainty and insecurity for a long time. So it's like, you don't know what's going to happen to your job…Nobody knows what's happening, nobody knows what to do. And then you add on top of that, the real stress of how to meet your material needs," said Cha. "The mental health effect is phenomenal."
Medicare for All would ensure that regardless of employment status, all people have access to mental health services, which would be a huge benefit to those experiencing these struggles.
The health risks to both workers and communities is one reason that the industry must be wound down. Another is the existential threat of climate change, which is itself creating public health crises that have become multi-billion-dollar drags on the economy. To ensure the impacts don't worsen will require a rapid transition to a no-carbon economy over the coming decades.
Yet that transition may already have begun since covid-19 led to a downturn in oil and gas demand. The sector has laid off more than 100,000 workers, and that number is rising. So far, that's happened in a haphazard manner with little oversight or support for workers. But to make sure the transition away from oil and gas is fair, the millions of people who work in the American oil and gas must be taken care of. That includes ensuring they have access to basic human needs.
"We will need time to invest in new industries and to diversify economies. That can't happen overnight," said Cha. "So if we could give assurance that these workers will be supported through this transition, that I think removes a lot of reasonable opposition that comes from that primal survival instinct we all have."
Those new industries would also benefit from the Medicare for All just as the fossil fuel sector would.
"It's pretty widely known that the jobs in the new green economy have so far been largely non-union, they don't always pay that well, and they often don't provide benefits [like] health care," said Cha. "Right now, getting employers to give people health care is a fight. But when you have health care guaranteed for everybody, you don't have to bargain for it. So it's not like this huge employer giveaway if they give you health insurance, and instead you can focus on improving things like wages and other benefits like pension support."
To avert the worst consequences of climate change and limit the safety risks it creates, the U.S. will have to make huge changes to its economy. But there's no reason that should put workers—or anyone—at risk of losing their health care.
"If we had Medicare for All, we'd just have a healthier society," said Cha.
Barragan agrees, and also thinks it could afford him a safer and more fulfilling life personally. He's 58 years old, but his job doesn't include a retiree medical plan, so he plans to spend another seven years doing physically taxing labor until he qualifies for Medicare.
"If they had Medicare for All, I'd be lining up my ducks in a row right now to retire," he said.
If he could retire, Barragan said he'd be devoting more time to labor organizing and to his family's cancer aid charity, as well as "booking a trip to Hawaii." After nearly 40 years in the oil and gas industry, he deserves it.
**
What the pandemic taught us about America's working class
Democrats are doing a lot to help workers. They can — and should — go further. By Emily Stewartemily.stewart@vox.com  Mar 17, 2021
April, who works at a pet shop in Minneapolis, makes $11.75 an hour. She loves her job, and it pays better than the federal minimum wage, but not by much. She and her partner get by. They still don't make enough money to afford a car, but they can manage rent, their phones, and internet, and support their 12-year-old daughter.
Her partner lost his job as a body piercer when the pandemic hit. He went on unemployment insurance for a while, and he and April finally found health insurance through a public assistance program. It was more consistent income than they'd seen in quite some time. "We were able to get a little bit of extra money into our accounts for once. We weren't going paycheck to paycheck for a while. That was wonderful," April said. "I think a ton of people were finally out of the poverty level with that money." Her partner has now found a different job that allows him to work from home.
Life is more or less fine, but April said it would be better if they made more. "We would be able to have a house like a normal family," she added.
April and her family's situation is quite normal: In 2019, about 39 million people made less than $15 an hour. When the pandemic hit, that number actually fell — not because people were making more but because low-wage workers became unemployed. The United States is still short millions of jobs, most of which are minimum wage or not much better. Of the nearly 10 million jobs lost in 2020, four out of five were held by people earning $13.67 or less per hour. And for those low-wage workers still waiting for jobs to come back, navigating the unemployment system can be hellish.
The Covid-19 pandemic has laid bare the myriad ways America undervalues and mistreats the working class. The federal government has done quite a bit to help support workers in recent months, particularly with the passage of the $1.9 trillion American Rescue Plan, but those efforts also underscore how much more could be done — not only during moments of national emergency but also in more "regular" times.
A $15 federal minimum wage by 2025 was scrapped from the stimulus package, but Democrats shouldn't give up on a wage hike or policies aimed at the working class. On unemployment insurance (UI), there's a chance to enact real reforms and find ways to make the system more robust, especially in a moment where so many people are paying attention. Democrats have a chance now to advance the discussion and put forward policies, such as establishing automatic stabilizers, strengthening standards for states, and offering benefits to a broader swath of workers. Although wages and UI are often treated as separate issues, they're closely intertwined.
The country has spent a year talking about how important workers are, how the people who keep the economy going are essential. But valuing workers means more than saying thank-you and calling people heroes, or tossing out a lifeline when there's no other option.
"We want to clap for you and clang pans for you, but we don't want to pay for you," said Rebecca Dixon, executive director of the National Employment Law Project. "Some folks' labor is clearly undervalued, and it has historically been undervalued."
It's important to be clear here about who's impacted the most: Black and brown workers, as well as women, are disproportionately paid sub-$15 wages, and women — particularly women of color — are disproportionately bearing the brunt of job losses. People of color and women, many of whom earn minimum wage or close to it, are also likelier to have been classified as essential workers during the pandemic.
Low wages give lawmakers and businesses an excuse for low unemployment and vice versa
Many business owners and Republicans, and even some Democrats, often say that it's unfair to expect businesses to pay workers more. They argue that increasing the minimum wage or offering unemployed workers decent benefits while they look for jobs will harm employers that have to increase wages.
The US Chamber of Commerce, for example, has fought against both the minimum wage increase and expanded UI. It warned in 2019 that hiking the minimum wage to $15 "would have disruptive impacts on employers, particularly small businesses, as well as negative effects on the job opportunities for first time and lower skilled workers." The Chamber of Commerce also argued against extending the $600 in weekly unemployment benefits that expired last July because it would "[violate] the basic principle that an individual shouldn't make more from government programs for not working than they did working." It invoked the same argument when advocating against the more recent $300 in extra weekly benefits, too. By the business group's analysis, an extra $300 a week means that a quarter of unemployed workers will receive more in unemployment benefits than they would from employment.
That may not be surprising when you remember that the federal minimum wage has been stuck at $7.25 since 2009. When wages are that low, it's easier to argue that UI is too generous.
"If you successfully oppose an increase [to] the minimum wage, then $400 UI boost looks like it is a higher share of earnings at the bottom, which allows you to then further argue against the UI boost," Arindrajit Dube, a University of Massachusetts-Amherst economist and an expert in minimum wage policy, said on Twitter.
Progressives say that if a business owner is really worried about people preferring to stay on unemployment instead of going to work (a prediction that hasn't shown up broadly in the data) and can't find workers, they should just pay them more. It's an argument many made in 2020, when the CARES Act added the extra $600 in weekly benefits for a few months.
"It was set basically to ensure everyone had at least full replacement under [a] $15 an hour minimum wage. But of course, since minimum wages in some states [is] so much lower, it meant substantially greater than 100 percent replacement rates at the bottom," Dube told Vox. "Back then, advocates pointed out, 'If you are worried about replacement rates, raise the minimum wage.'"
This is hardly a new debate — it happens often after recessions.
"It's something that employers say over and over again every time the economy starts recovering. They say, 'I can't get people because they want to stay on unemployment,'" said Andrew Stettner, a senior fellow at the Century Foundation. He then pointed to the counterargument, one made often by Neel Kashkari, president and CEO of the Federal Reserve Bank of Minneapolis. "If you really feel like you cannot find workers, have you thought about raising the wage to the point where people will take jobs?"
Many businesses say they simply can't pay more. That could be the case for some, but it's almost certainly not the case for all. The labor share of income has been on the decline in the US since the 1980s.
"We just know it to be true that a lot of firms aren't paying workers their marginal product — how much they bring into the firm each hour," said Wendy Edelberg, director of the Hamilton Project at the Brookings Institution and former chief economist at the Congressional Budget Office. "A lot of firms have market power in a way that just gives them a lot of profit, and that profit has to get divided up. … And the less bargaining power the workers have, the less they share in that division."
The fewer options workers have — such as to find a better-paying job, to negotiate with their current employer for more money, or to stay on unemployment another week until a more suitable opportunity comes along — the lower their bargaining power on any front. Unions could make a difference here, too: A bipartisan bill to strengthen unions has passed the House of Representatives, but unless Senate Democrats address the filibuster, it's likely going nowhere.
"The less an unemployed person has in benefits, just the more desperate they're going to be to take that next job that comes along," Edelberg said. "The more flexibility you have as to what to pay workers, the more you can leverage your power over them."
There are real debates to be had over unemployment and wages. That doesn't mean erring on the side of doing less.
A lot of the arguments against increasing wages and improving unemployment benefits contain a kernel of truth: There are some jobs that may go away with a $15 minimum wage, and someone with decent UI may take some extra time to find a better-paying job. But those arguments can be overblown.
Some critics of expanding UI worry that making benefits too generous will keep people from working. For one thing, that's partly the goal here: Public health experts don't want businesses operating at full capacity until it's safe. But there's also no evidence that people are staying out of the workforce en masse so they can collect their unemployment checks.
"If this was a big disincentive effect, it would show up in the data," said Heidi Shierholz, senior economist and director of policy at the Economic Policy Institute and former chief economist at the Labor Department. "It's not like it didn't disincentivize any individual person from taking a job, but any disincentive effect has been so small that it's not even detectable in the data."
The UI system in many parts of the US is hard to navigate and deal with, so it's not like getting and staying on unemployment is a walk in the park. If anything, UI should be made more robust.
"I find the incentives argument maddening," said Skanda Amarnath, director of research and analysis at Employ America. "The incentive stuff is not how people behave."
With regard to wages, there is a nuanced discussion to be had about what raising the federal minimum wage to $15 an hour would do — and Vox's Dylan Matthews has done a lot of work parsing the evidence. A few years ago, the vast majority of economists believed raising the minimum wage would cost tons of jobs, but the thinking has since shifted, per Matthews:
The evidence we have now suggests that in many cases minimum wages are a net good for workers. Even if a few workers lose jobs, those costs are significantly outstripped by increased wages for workers who keep their jobs. Whether that will remain true with minimums of $15 or more, especially in rural areas, remains to be seen — and if $15 per hour passes nationally, we'll soon learn a lot more about the policy, and about how labor markets work in general.
A low-wage worker might worry even a small number of job losses could mean they lose their livelihood. "There are going to be losers, and I can imagine even if there aren't a lot of losers, you would be filled with anxiety that you would be one of the losers," Edelberg said. And there would be a lot of winners: Millions of workers would see an increase in wages, and the net trade-offs might very well be worth it.
"To put it in perspective, $15 in 2025 would raise workers' wages in aggregate by $10 billion a year. That sounds like a lot, but the total personal consumption expenditures in the economy are over $14 trillion a year," Shierholz said. "It is true that businesses do pass on some of the cost of minimum wage increases in terms of higher prices, but if you do the math, it's not something to be worried about as far as minimum wage policy goes."
In many parts of the country, the only way to get wages up is through a federal minimum wage hike, Dixon emphasized, and it's the only way for many people of color who earn low wages to be paid more in line with what they're owed.
"More than half of Black folks live in the South, so when we're talking about raising the minimum wage, that's the only way it's going to be raised in the South," Dixon said. "It's really the only way that this huge segment of Black and brown workers are going to get a raise."
Mississippi, which has no minimum wage, is one of the poorest states in the nation. It also pays the lowest unemployment benefits, according to FileUnemployment.org. "It's those states that get helped the most when the federal government takes action," Dixon said.
Democrats have warned that the risk of boosting the economy is doing too little, rather than too much. There's a similar risk in terms of helping workers materially improve their lives.
"We just had this period of very unequal economic growth coming to a period of unequal recession," the Century Foundation's Stettner said. "We need some levers to start redistributing that money to people that are working, that are going to come back to work."
---
Our team of journalists is working tirelessly to help people understand how the burst of policy decisions coming out of Washington, including the stimulus, will impact their lives. Millions of people rely on it. But that work is expensive. Help us keep our work free for all by making a financial contribution from as little as $3.
MORE FROM VOX
**
A Tax Hike That Would Play Well at the Polls
BY HAROLD MEYERSON MARCH 18, 2021
KRISTOFFER TRIPPLAAR/SIPA VIA AP IMAGES
At Walmart, the ratio of CEO pay to average worker pay is 983-to-1.
As the Democrats hammer out the particulars of their impending infrastructure bill—a multitrillion-dollar effort to bring America into the 21st century—they're also going to propose some tax increases to fund this and other overdue social programs. One such proposal, recently floated by the dynamic duo of Elizabeth Warren and Bernie Sanders, is a tax on wealth in excess of $50 million. Another proposal was introduced in the Senate just yesterday by Sanders and in the House by Rep. Rashida Tlaib. It calls for increasing the tax rate on corporations whose CEOs make more than 50 times the pay of their median worker by 0.5 percent, on those whose CEOs make 100 times that by 1 percent, and so on up to a 5 percent increase on corporations whose CEOs make more than 500 times what their median workers earn.
Currently, the average U.S. CEO makes roughly 320 times the pay of their average employee. At Walmart, the ratio is 983-to-1; had the tax been in effect in 2019, it would have compelled Walmart to pay an additional $855 million in federal taxes. At CVS, the ratio is 790-to-1, which would have yielded $450 million in taxes that year.
In the 1960s, CEOs made just 20 times the pay of their average worker, but the massive tax reductions on the highest-income Americans enacted over the past half-century, plus the wage stagnation of most American workers as their CEOs worked night and day to weaken their unions, has led to a 16-fold increase (from 20 to 320) in the pay gap. (The one union—de facto, to be sure—that CEOs have strengthened is their very own: They sit on each others' corporate boards and approve each others' raises and stock options. Nice work if you can get it.)
I know of no CEO, by the way, who's actually claimed they're 16 times better than their 1960s predecessors.
I hope the Democrats get this proposal through the House Ways and Means Committee and to the floor of Congress. Polling shows that even rank-and-file Republicans think the rich are undertaxed and that CEOs' work isn't worth 300 or so times what their average employee's work is worth. Let congressional Republicans vote against it; a better issue for the Democrats in 2022 and 2024 is hard to imagine. It's similarly hard to imagine a better tax policy, though corporations would surely try to game it.
It was Larry Mishel and other economists at the Economic Policy Institute who began the annual calculations of this ratio two decades ago. The Dodd-Frank Act, passed in 2010, required the Securities and Exchange Commission to calculate that ratio annually, too, but it took the Wall Street–friendly SEC eight years to comply with the act's mandate. More than a decade ago, Sarah Anderson and other economists at the Institute for Policy Studies began calling for a ratio tax, and around then, I began banging the drum for it in my columns at both the Prospect and The Washington Post. After reading one such column, a member of the Portland, Oregon, city council persuaded his colleagues to enact such a tax in 2016, and last November, voters in San Francisco enacted it by referendum. Such a tax would clearly have far greater impact, however, if applied nationwide.